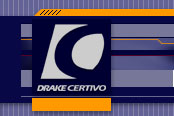 Professional Services
Working with many of the world's largest standards bodies, Drake Certivo has gained an unparalleled understanding of the tools, services and strategies necessary for organizations to reduce the time, cost and risk associated with the integration and deployment of standards and trading partner specific implementations.
This domain expertise has been channeled into the development of the Jump-Start Product and Service Suite designed to help organizations accelerate standards implementation, deployment, trading partner connectivity and electronic business exchange.
To better meet the needs of each organization, and to ensure optimal implementation, we provide professional services in conjunction with the Jump-Start Test Suite in the areas of test support, administration, logistics and project management.
The Drake Certivo professional services team consists of technical and subject matter experts, software engineers, project managers and industry analysts, each bringing vast industry knowledge and experience to each project.
The professional services team has developed a phased methodology: Discover, Develop, Deploy and Comply–which allows for a working roadmap to be designed to ensure the accurate and timely execution of each clients project.
Methodology
Discover
Develop
Deploy
Comply
Test Services
Basic test services support
Back-end test integration services
Test scenario development
Test scenario simulation
Test tool-kit installation and configuration

Business Services
Business scenario analysis
Business rules validation
Tailored implementation training programs
Technical program managementServices include:Business process assessment and alignmentTechnology assessmentCost-benefit analysisOther supplementary development servicesTailored to your needs