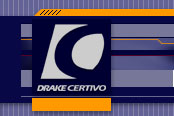 What We Do
Drake Certivo provides products and services focused on accelerating standards implementation and deployment, trading partner connectivity, interoperability and electronic business exchange.
Products and services include the tools, services and strategies necessary for organizations to reduce the time, cost, and risk of integration and deployment of standards and trading partner specific implementations.
With its team of subject matter experts, solutions architects, software engineers, project managers and industry analysts, Drake Certivo is positioned to better meet the needs of each organization, and to ensure optimal implementation through its suite of product offerings including:
Jump-Start Solution Suite
This is a comprehensive solution suite of tools, services and processes that enables the acceleration of standards implementation and deployment, partner connectivity and electronic business exchange by automating the test process, which lowers deployment time and costs.
Professional Services
Achieve optimum efficiency and productivity throughout the supply chain by instituting industry standards with the assistance of Drake Certivo professional services. From business process analysis/re-engineering, trading partner readiness, and the deployment of standards across the supply chain, the Certivo team of professionals is there every step of the way.
Education
The standards-based course library – "Web Services Foundation Library" – are web-based courses that provide learners an overall knowledge of emerging standards, the standards bodies that govern them, appropriate use of each standard, and how specific standards work together. The Drake Certivo Web Services Foundation Library (WSF) is a key component in leveraging the potential of Web Services through a deeper understanding of global standards.
Custom Curriculum Development
Drake Certivo provides custom curriculum development services for both business and technical courses, in various delivery methods from multimedia rich, Web-based to instructor-led. Courses are developed and delivered to each client's specifications by teams of subject-matter experts, instructional designers, multimedia specialists, Web developers, voice professionals, usability testers, and quality assurance experts.