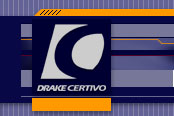 Who We Are
Headquartered in Newport Beach, CA, Drake Certivo is part of the Drake technology group of companies and is dedicated to driving the adoption of open global standards for supply chain and trading partner network optimization.

The Drake Certivo staff includes subject matter experts, solutions architects, software engineers, project managers and industry analysts, each with vast experience and expertise in technology and industry standards.

Drake Certivo products and services are developed with a focus on accelerating standards implementation and deployment, trading partner connectivity and electronic business exchange through implementation acceleration products, professional services, education and certification.

History
In late 2000, Drake Certivo became the education partner for the Uniform Code Council (UCC) focusing on the UCC version of the XML standard, EAN.UCC XML.

In 2002, Drake Certivo was appointed by RosettaNet as the official compliance testing source for solution providers and others within the high technology supply chain as part of the RosettaNet Ready™ Program.

The compliance testing services administered through Drake Certivo on behalf of RosettaNet helps to ensure that the software products of a company are compliant with RosettaNet eBusiness process standards.

Also in 2002, Drake Certivo was selected by RosettaNet as the exclusive administrator to oversee the first ever interoperability trials. These trials consisted of ten RosettaNet solution providers looking to test the interoperability of their RosettaNet software solutions.

In 2003, Drake Certivo continues to provide implementation acceleration products, professional services, education and certification for Fortune 1000 companies, IT integrators, world-wide standards consortia and government agencies. Vertical markets include: retail, electronics and high-tech, grocery, automotive, semiconductor, financial services and healthcare.

About Drake
Founded in 1951, Drake has been concentrating on solving business problems. Starting by analyzing business needs and pinpointing how Drake can best help to achieve an organization's strategic intent.

Operating in 11 countries around the world, Drake International leverages it's business requirements expertise to conduct needs analysis and visioning sessions to help improve the productivity of organizations.

Drake was founded with the core principle that organizations and people are at the highest level of productivity when they are working with the right skills and behaviors, using the best processes and technologies, and staffed at the right time based on work requirements.