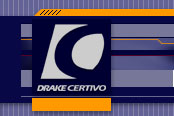 White Papers
Business White Paper
Jump-starting RosettaNet Implementations
Accelerating Trading Partner Integration — the Business Advantages

Achieving business process alignment and integration between trading partners is one of the best opportunities for improving organizational efficiency. How do you evaluate what to integrate and what value can you expect in return? Considerations such as determining the effort required, business process modeling, implementation issues and testing solutions are discussed in this paper designed for executive management.
Business White Paper
Access Management System Overview
AMS White Paper

This Business White Paper introduces the reader to the Drake Certivo custom designed Access Management System (AMS). The AMS provides user access to online content. The AMS is based on open-source frameworks and does not involve royalties or other restrictions for the use of the systems components. This paper will describe the current features and supported functionality in the AMS, as well as outline its architecture and underlying components.
Technical White Paper
Jump-starting eBusiness Implementations
Accelerating Trading Partner Integration

Explore how an eBusiness standards compliance and implementation testing solution can dramatically reduce the time spent, and cost incurred, when implementing trading partner connections. Testing processes based on principles adapted from formal model checking techniques and software quality assurance practices are outlined along with solution suite components and test engine architecture.